Order a menu with pie for BGN 9.90 + free delivery!
Whenever you're hungry and you want to get fast delivery of delicious food for your home, McDonald's comes to the rescue with a great promotion! Not only can you eat so deliciously, but you can also make it cheaper! McDonald's promotional offers are definitely not to be missed, including this one - ordering home food is always more exciting when you earn something extra. Now McDonald's offers a great choice of menus with a pie, which you can enjoy a 30% discount, at a special price of 9.90lv and order them at home with free delivery! Not only do you get a great discount on the value of your order, but you also grab a pie for home, combined with absolutely free delivery to you - what can be better? Trust foodpanda and McDonald's and order your delicious promo menu with a pie and free delivery to you.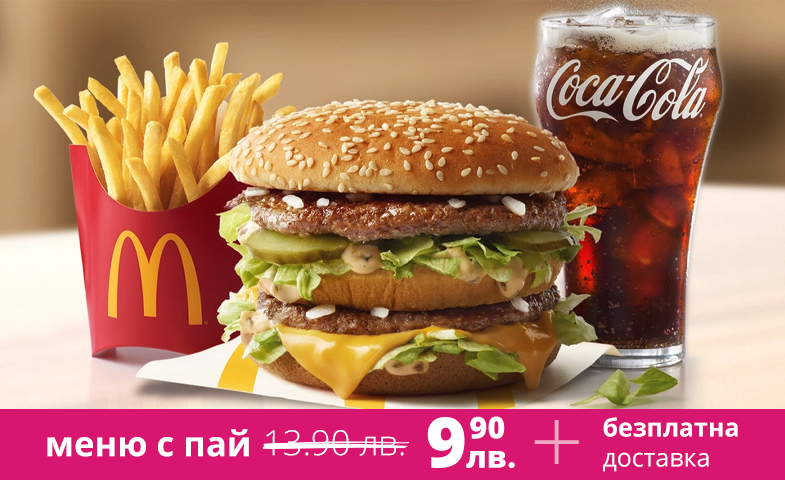 ---
Find a Mcdonald's near you
ORDER NOW
---
McDonald's delivery FAQ
How do I order McDonald's delivery?
To order McDonald's delivery online, simply go to foodpanda and enter your address in the location form. You will see a list of vendors that deliver to your location. Type McDonald's in the search bar and see if the restaurant delivers to you. Afterwards, proceed as usual: browse the menu, choose your dishes, click on the checkout and follow the instructions to complete your order.
Does McDonald's deliver to me?
You can check if McDonald's delivers to you by simply providing your address on the restaurant's page or the homepage of foodpanda.
How can you pay for McDonald's delivery?
You can pay for your McDonald's delivery online while ordering at foodpanda Bulgaria by using a credit or debit card or PayPal; you can also pay cash on delivery.
What should I order at McDonald's?
McDonald's in Bulgaria offers you a variety of great dishes to choose from! It all depends on your craving and occasion, for example, you can go for a massive Home Party Pack to share with your friends, or McCafe Coffee & Cake Combo to have a delicious, satisfying treat for yourself.
What are the most popular dishes from McDonald's?
Some of the most popular dishes at McDonald's in Bulgaria include Big Mac, McChicken sandwich, and Filet-O-fish. If you are looking for something different to try, just browse through the menu and check all the delicious options McDonald's offers!
---
Find more deals in selected restaurants near you
ORDER NOW